Baktash Akasha and Ibrahim Akasha Abdalla during a court appearance in 2015. The two brothers are serving long prison sentences in the the United States for drugs offences. PHOTO | FILE | NATION MEDIA GROUP
By DAILY NATION
NEW YORK - Convicted drug traffickers Baktash and Ibrahim Akasha are serving long sentences in US prisons hit by outbreaks of the coronavirus.
A total of 59 inmates of US federal prisons are reported to have died from Covid-19, the disease caused by the virus. Another 1,735 federal inmates and 191 federal prison staff members have tested positive for the virus.
The Akasha brothers' own current health status is unknown, although Baktash is said to suffer physical conditions that increase susceptibility to the virus.
The US Bureau of Prisons has banned all visits to federal inmates due to the pandemic. And neither prison authorities nor attorneys for the Akashas are providing information on the brothers' medical status.
SUFFERS FROM OBESITY
Baktash is incarcerated in a correctional complex in the state of Louisiana where eight prisoners have died from the virus. Ibrahim is housed in a detention centre in the New York City borough of Brooklyn that has recorded no inmate deaths or current infections, but reports that five inmates at the facility have recovered from cases of Covid-19.
"We do not comment on the conditions of confinement for any specific inmate," US Bureau of Prisons spokesman Emery Nelson said on Thursday in response to a Nation query regarding the Akashas' health.
Related Stories
Covid-19: Kenyan scholar dies in US
How Akasha ally planned to open multi-billion-shilling drug factory in coast
Baktash Akasha jailed for 25 years
How Baktash Akasha escaped life sentence
George Goltzer, a New York attorney who has represented Baktash Akasha, wrote in an email on Thursday: "I have no further comments on the case or his status in prison."
Bernard Alan Seidler, a New York attorney representing Ibrahim Akasha, said by telephone on Friday that he has not spoken with his client since March 1 and has no information on Ibrahim's current condition.
Attorney Goltzer stated in court last year that Baktash, 43, suffers from obesity, asthma and diabetes. These conditions make him particularly vulnerable to the coronavirus.
Ibrahim Akasha, 30, has received counselling for depression, Dawn Cardi, his attorney at the time, told a US judge earlier this year.
The Bureau of Prisons lists Baktash's release date as May 21, 2038, while Ibrahim is scheduled to be let go on September 5, 2036.
The brothers pleaded guilty last year to multiple felony charges involving a conspiracy to smuggle heroin and methamphetamines into the United States.
TESTED POSITIVE
Most of the 137,500 inmates of US federal prisons have been largely confined to their cells since the onset of the pandemic in March in an attempt to limit the spread of the virus.
But authorities at the Louisiana facility where Baktash is serving his sentence have failed to isolate several inmates who tested positive for the virus, according to the labour union representing prison officers at the state's Oakdale Federal Correctional Complex.
The Oakdale prison consists of two main institutions. Oakdale I, with 986 inmates, has recorded seven prisoner deaths and 188 infections among prisoners and staff. Oakdale II, the part of the complex where Baktash is confined, has reported one death and six recoveries from the virus among its 795 inmates.
Ibrahim Akasha is one of 1598 inmates at the Metropolitan Detention Centre (MDC) in Brooklyn. Although none of them are known to have died from the virus, a former chief medical officer for New York City jails charged after a visit to the MDC that it is "ill-equipped to identify cases of Covid-19 within its population."
===
UGANDA: Note this case one more time. It mentions Museveni's sister in law withou stating a name but the so-said is none other than Josiah, Gen. Saleh's wife.
https://youtu.be/eMMWPczaIXU
The Akasha's Dossier: Yoweri Museveni's family mentioned in the drug case fasing Akasha brothers
===
By
NZAU MUSAU
, STANDARD MEDIA, July 27th 2019
https://www.standardmedia.co.ke/article/2001335535/revealed-akasha-link-to-museveni-kin-shabaab
NAIROBI - US court pushes sentencing of Baktash to August 16 and November 8 for his brother Ibrahim.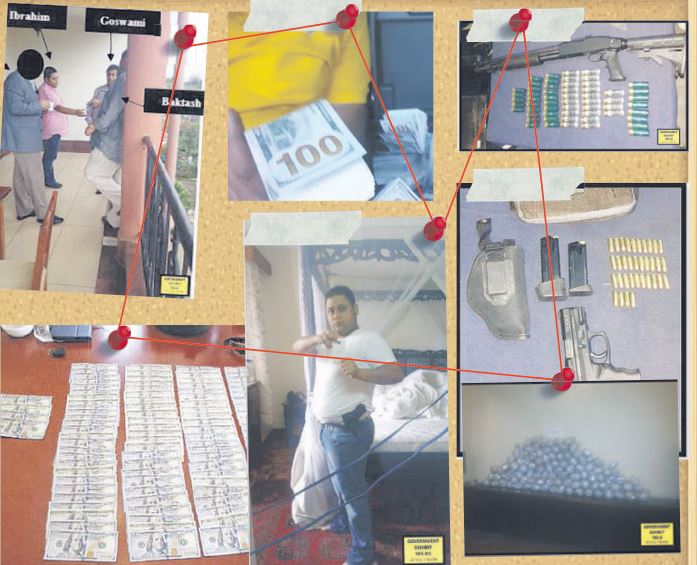 On the day the Akasha brothers and their empire were to sink 13,000 kilometres away in the US, shocking revelations emerged that have now placed Ugandan President Yoweri Museveni's sister-in-law at the centre of their network.
A document filed on Thursday by Geoffrey S Berman, the US Attorney for the Southern District of New York, pulled down the veil on an ugly drug cartel that also sucked in flamboyant politician Stanley Livondo, businessman Ali Punjani and host of other names.
It is a story of a drug empire that expanded and thrived by roping in law enforcement agencies, politicians, judicial officers, prosecutors and influential families. It entails torture and killing of family members and dabbling with the Al Shabab terror group.
A picture emerges of the Akasha's big but wicked dreams for their empire: An ambitious plan of using established laboratories in Burundi, Uganda and Tanzania to manufacture ephedrine into methamphetamine.

Licence to import

"In pursuing this plan, Baktash (Akasha) set up a meeting with the Ugandan President's sister-in-law to discuss methods of illegally importing ephedrine into Uganda."

"Baktash, Ibrahim (Akasha), (Vijaygiri) Goswami, and (Bipin) Panchal attended the meeting, at which the President's sister-in-law offered to provide a licence to import the ephedrine, two tonnes at a time, in exchange for a percentage of the profits," it says.

The laboratories plan was hatched by this man - Dr Panchal - who is said to have offered to bring in an Indian manufacturer of ephedrine called Avon Lifesciences (also known as Avon Organics).

It was all systems go for identified labs in Tanzania and Mozambique when Baktash sent his brother-in-law to India to provide Avon with the addresses for shipment of the ephedrine.
Baktash's brother-in-law arrived, however, to find that the factory had been raided by law enforcement the same day. The Avon factory was consequently shut down, and the Akashas' Avon-related plans for manufacturing methamphetamine were stalled.
The document says the Akasha's were so wired in Kenya that they actively obstructed the US extradition request for three years while also dabbling in multi-million shilling worth of drug trade entailing a mandrax manufacturing plants in Zimbabwe.
For decades, they had distributed large quantities of mandrax, cocaine, hashish, heroin and other substances to locations all over the world.
They protected their lucrative drug business with violence, murder and related threats.
The document lays bare the bloody spats that ensued between the Akasha's and rival drug cartels before their capture in 2017. New details have merged on how the Akasha's took on two drug rivals -- one led by a man only described as David Armstrong and the other by businessman Ali Punjani.
The document names Livondo as an Armstrong associate brave enough to confront Baktash at a shopping mall in Mombasa before Ibrahim intervened, drew his gun and threatened to kill him.
Later, Pinky -- Armstrong's right hand man based in South Africa -- was pumped with 32 bullets and a party held at Baktash home to celebrate the feat. In the Punjani attack, the Akasha's descended on two of his men, one named "Speedy" and the other Tony Sanghani and beat them almost to a pulp.
"Ibrahim beat Sanghani with his fists and his gun. Sanghani suffered serious injuries, went into a coma, and was hospitalised for several weeks."
In the document, Baktash's Mombasa home is described as "fortified base of operations."
Incidentally, the man who sold out the Akasha's -- Vijaygiri Goswami, an Indian drug lord -- is described as having been known to them since late 80's when he worked with the senior Akasha and an another drug trafficker named Muhammad Asif Hafeez in hashish business.
They say when the Senior Akasha was murdered, his son Baktash arranged to have the killers felled on the same street where his father was murdered, exactly one year later.
After the death of their father in 2000, Goswami came in to help in distributing a mandrax precursor chemical, which they referred to as "abba."
In the documents, the Akashas are said to have told Goswami they had access to 10 tonnes of abba that had been seized by Kenyan law enforcement and which belonged to Armstrong.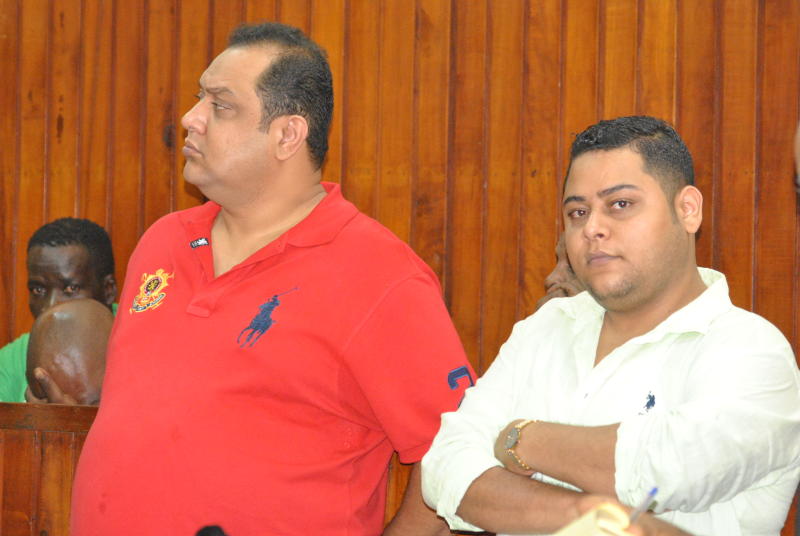 Baktash Akasha and Ibrahim Akasha when they appeared before the Chief Magistrate's court in Mombasa in 2016. [File, Standard]
"Using proceeds from their mandrax precursor business, the defendants paid hundreds of thousands of dollars in bribes to local officials, including prosecutors, judges, politicians, and law enforcement," they say.

By the time they were nailed in 2017, Ibrahim is said to have been purchasing kilogram quantities of cocaine from Tanzania and distributing it to street users in Malindi, Kenya, making a profit of approximately Sh6 million ($60,000) to Sh7 million ($70,000) per kilogramme.

"Ibrahim told Goswami that he was also bribing government employees at Kenyan government laboratories and warehouses in exchange for ephedrine (which could be used to manufacture methamphetamine)," it adds.

Besides scouting for drugs in Tanzania, Ibrahim was also sweeping clean all the mandrax supplies in Mombasa and Nairobi before transporting it to SA where it fetched higher returns. Before returning to Kenya, he would then purchase stolen cars that he in turn sold in Kenya.

As he was going "continental", his brother Baktash was going international. In July 2014, Baktash is said to have summoned another drug dealer named Martin Hong all the way from China to Mombasa, seeking out supply of abba at a rate of Sh4 million ($40,000) per tonne.

There would be an additional Sh3 million ($30,000) per tonne if Hong agreed to an exclusive partnership with the Akasha Organisation.

"The Akashas and Goswami decided to have Ibrahim host Hong for a day, taking him to a national park and other tourist attractions in hopes of persuading him to accept their offer."

Two narcotics transporters named as Daryl and Clement were assisting Baktash in transporting a mandrax-precursor chemical called anthranilic acid from India to Zimbabwe, where it would be manufactured into mandrax tablets.

Their end however came when in March 2014, Baktash and Ibrahim made a new multi-million dollar proposal to Goswami that included a US government agent code-named Rashid.

Confidential source

"Baktash believed he represented a Colombian drug cartel but was in fact a confidential source working for the DEA. Baktash and Ibrahim had enthusiastically agreed to supply Rashid large quantities of heroin for importation into the US."

Meetings were held in Nairobi and Mombasa where secret recordings were made. Baktash even invited his heroin supplier from Pakistan, named Abdul Syed, to Mombasa to see how he was "living like a lion."

The two Akasha brothers also traveled to Tanzania to meet with heroin suppliers, one named Harriri and the other Mohammed Nasser. At the same time, another drug supplier named Minesh Patel was also brought onboard.

The document falls short of calling guns as play toys for the Akashas. At their home in Mombasa, armed security guards wielded both pistols and AK-47 machine guns. They also had hand grenades.

Records adduced in the case capture the Akashas boasting their prowess as drug lords: "Whoever comes, and wherever they come from, (when they) say (our) name, they know we are drug dealers . . ."
The court yesterday pushed their sentencing to August 16 for Baktash and November 8 for Ibrahim.