The Firm Floor Under Oil Prices
By OILPRICE.COM
Oil held steady at the close of the week, with a slowdown in U.S. shale and the looming deadline for a decision on Iran sanctions waivers putting a floor under oil prices.
Schlumberger sees shale slowdown. Schlumberger said its earnings were hit in the first quarter by the drilling slowdown in the Permian, while market conditions globally continue to improve. Schlumberger sees "higher investments in the international markets simply to keep production flat, while North America land activity is set for lower investments with a likely downward adjustment to the current production growth outlook,"
according
to CEO Paal Kibsgaard. "the higher cost of capital, lower borrowing capacity and investors looking for increased returns suggest that future E&P investments will likely be at levels dictated by free cash flow."
Rig count falls. The U.S. oil industry
slashed
its rig count by 8 rigs this week, bringing the total down to 825. The sharp decline put an end to two consecutive weeks of increases.
Trump spoke about oil with Abu Dhabi crown prince. President Trump
spoke
with the crown prince of Abu Dhabi and they talked about "contributions to the global energy markets as a reliable supplier of oil," according to a readout of the call from the White House. Trump is expected to make a decision on Iran sanctions in the next week or two, and a hardline may require higher oil production from OPEC.
Venezuela sends oil through Russia. Venezuela is skirting U.S. sanctions by moving oil through Russia's Rosneft. According to
Reuters
, PDVSA has passed invoices from its sales to Rosneft. Rosneft buys the oil at a discount and resells cargoes to international buyers at the full price. PDVSA receives the money upfront rather than at a later date.
Cooler temperatures push down electricity. Cooler than average temperatures are
expected
for this summer, and the U.S. could see lower electricity bills, according to the EIA. Relatedly, natural gas prices are near multi-year lows on expectations of record-breaking gas production this year.
Tellurian receives federal approval on $28 billion LNG project. Tellurian Inc. (NASDAQ: TELL) won
federal approval
for its $28 billion Driftwood LNG export terminal on the Gulf Coast, and Sempra Energy (NYSE: SRE) also got the go-ahead from regulators for its Port Arthur LNG project. The project approvals come even as the market for LNG has become oversupplied, amid a wave of new export capacity in the U.S., Australia and Qatar.
Saudi Aramco considers 20 percent stake in Indian refiner. Saudi Aramco is mulling a
20 percent stake
in India's Reliance Industries. Aramco has been stepping up investments in overseas refiners and petrochemical companies as a way of securing long-term buyers for its crude oil. India, in particular, is expected to be a strong source of demand growth going forward.
Petrobras reverses course, hikes diesel prices. Less than a week after Brazilian President Jair Bolsonaro decided against a price increase for diesel, Petrobras (NYSE: PBR)
raised
prices by 10 cents per liter and promised that it would remain free of political interference. When news broke that Bolsonaro opposed raising diesel prices last week, Petrobras' share price plunged. The hike in prices was meant to send a signal to investors that the company would keep a keen eye on company finances, pursuing divestment and debt reduction.
Colorado Governor signs major oil and gas overhaul. Colorado's Governor Jared Polis
signed
into law a major overhaul of the state's oil and gas sector, granting more authority to localities over drilling operations and also reforming the mission of the state regulator to prioritize public health and environmental protection instead of promoting oil and gas development. The law is seen as a blow to the industry, but the silver-lining could be more certainty. "Today, with the signing of this bill, it is our hope that the oil and gas wars that have enveloped our state are over, and the winner is all of us," Gov. Polis said.
ExxonMobil won three offshore blocks in Argentina. ExxonMobil (NYSE: XOM)
won
three offshore oil blocks in Argentina, in the Malvinas basin at the southern tip of the country. The closely-watched auction reportedly attracted offers from 13 companies for a combined $995 million.
Repsol suspends gasoline swap with Venezuela. Spain's Repsol has suspended fuel swaps with PDVSA, fearing retaliation from American sanctions. Respol had been sending gasoline in exchange for crude oil, helping ease a fuel crisis in the country.
Kinder Morgan considers third Permian gas pipeline. Kinder Morgan (NYSE: KMI)is considering building a third natural gas pipeline for the Permian. "Demand to get gas out of the Permian continues to grow and the desire to unlock value that's in oil and (natural gas liquids) continues to put pressure on need for additional takeaway capacity," CEO Steven Kean
said
. "There is interest in pipe three."
Europe imposes caps on CO2 for trucks. The European Parliament
passed
a 30 percent CO2 reduction target for 2030 and establish the first CO2 limits for heavy trucks.
Permian sees discounts for too much light supply. With the Permian overflowing with ultralight oil, refiners are beginning to demand discounts because of a mismatch with medium and heavy refining capacity. Reuters
reports
that ultralight oil has begun trading at a $1 to $2-per-barrel discount to WTI.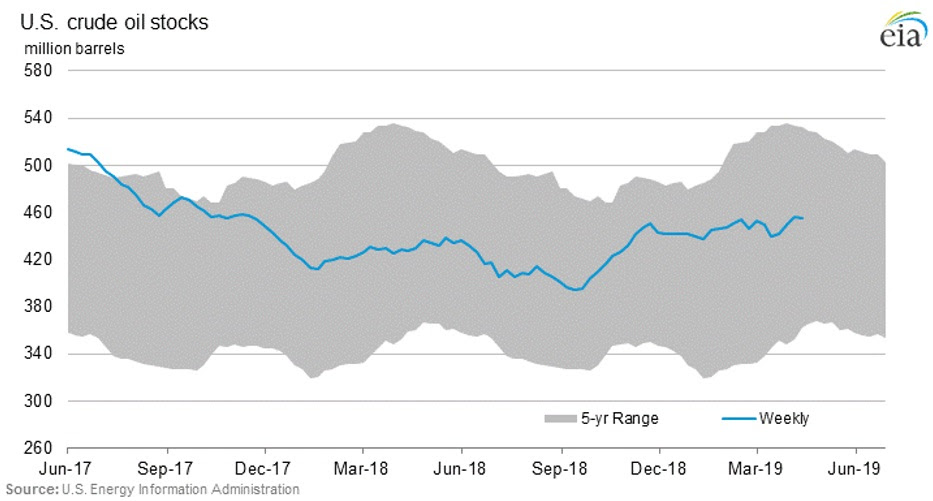 This Is A Crucial Moment For Arctic Oil
The last two weeks have seen quite a flurry of news about Russia taking its Arctic projects to the next level, tapping into the "colossal" reserves of this still somewhat underdeveloped production region. In order to grasp the complexity of the task Russia faces with all its indisputably bountiful Arctic zone, one has to analyze bit by bit the paradoxes and undercurrents of its oil production in general – then you might understand how Gazprom Neft can claim at the same time that it "can do anything in the Arctic" yet is actively looking for partners to reduce production costs. The renewed interest in the Arctic is in large part a by-product of the oil price rise, so if Dated Brent drops below $60 per barrel, plans could be shelved once again.
Despite substantial Western hype about Russia pumping as much Arctic crude as it can, on the surface of it, Moscow's success list is bleak with no evident promise of changes to come. After the Russian government modified the Subsoil Law in 2009, allowing only Rosneft and Gazprom Neft to operate Arctic and continental shelf projects, there is only one company – Gazprom Neft at its Prirazlomnoye field – producing Arctic oil. Gazprom Neft also claims that its Messoyakhinskoye and Novoportovskoye fields belong tot he Arctic category, yet both are technically onshore (for that matter, the mother company Gazprom does not call its Yamal gas fields, like Bovanenkovo, Arctic). Ever since the US sanctions on Russia, Russia's leading major Rosneft did not spud a single wildcat in the Arctic.
Source: OilPrice data.
Even if it wanted to (it does not as it is busy seeking preferential fiscal treatment at onshore sites), Russia in total has only two drilling rigs that are applicable in Arctic conditions. Of course, one would not hear it on the news – the externalized image is that of Rosneft CEO Igor Sechin meeting with President Vladimir Putin, vowing to create an Arctic production hub that would facilitate Putin's plan of increasing Northern Sea Route shipments fourfold by the end of his mandate in 2024. The devil is in the details here – Rosneft claims that oil from its Vankor hub fields, like Tagulskoye or Suzunskoye, could be rerouted towards the north, technically making them "Arctic" crude even though they are very well within the borders of continental Siberia. Yet this would mean diverting them away from their current outlet conduit – the Vankor-Purpe pipeline and ESPO which currently carries this crude into China.
Rosneft has all but monopolized crude exports towards China – 90 percent of all Russian exports towards its eastern neighbor are Rosneft volumes – so basically creating an Arctic hub would mean foregoing lucrative ESPO exports. Moreover, the Vankor-Purpe pipeline was not built by the Russian pipeline transportation monopoly Transneft, but Rosneft itself – giving up on a $1.5 billion investment that is operational only since 2009 would be a tough call, even for a company as profligate as Rosneft is. Hence, all the recent Arctic talk is nothing but throwing dust in the eyes of the largely unsuspecting populace. Most likely it's just doublespeak for further exclusive preferential Rosneft tax cuts or getting the Zapadno-Irkinsky block without appropriate licensing rounds held.
Ironically, roughly around the same time that the Rosneft CEO was boasting about his company's Arctic potential, the head of the Russian subsoil agency Rosnedra Evgeniy Kiselev had a rare moment of complete honesty, stating that "both Rosneft and Gazprom Neft are blocked at Arctic deepwater projects" and that Russia's progress in this aspect was severely constrained by a lack of relevant technical competence. The crux of the matter that US sanctions against Russia's oil and gas sector – banning any sort of cooperation in shale, deepwater and Arctic - have not bitten that much into Russia's shale potential (there LUKOIL and Gazprom Neft still vie to develop an extraction technology suitable for the country's cold climate and capable of reducing high production costs), but instead have blocked everything related to the Arctic.
Yet if there was a moment in the past 5 years when investments into Russia's Arctic area would be finally appropriate, it is now. The authorities feel it and are trying to nudge the two state-owned companies to act. According to most Russian analysts, the breakeven point for commercially viable Arctic fields hovers somewhere between 65 and 80 USD per barrel – note the weird phrasings of high-ranking managers saying that the production cost is less than 10 USD per barrel after the company has completed investment. This, under current circumstances, is a workable that might excite potential investors. Two years ago, when Gazprom Neft lured ONGC and CNPC to join the Dolginskoye project (3P oil reserves of 1.5Bbbl) crude prices were around $50-52 per barrel – today a potential investment seems much more likely.
Yet fear still fetters Western and Chinese majors – since 2014, Russia has seen a total of 31 shelf development plans abandoned or delayed. Even though the Russian deputy prime minister Yuri Trutnev raised the idea of clearing all administrative obstacles in front of foreign firms to develop fields located on Russia's continental shelf, including Arctic ones, it is not the Russian state hindering their involvement in the first place, rather punitive measures that the Trump Administration might take against anyone who might have the nerve to invest in Russia's Arctic (and deepwater generally). With such a constellation of stars, companies like Gazprom Neft, might be much better off focusing on Russia's shale (Bazhenov Suite and the likes) where the distinction between "shale" and "tight" oil is very vague – thus, a strong legal case might be made that one is developed (the allowed) tight, not the banned shale oil .
If one is to take the utterances of the Natural Resources Ministry in earnest, one must also notice the frequent usage of the peak crude demand phenomenon. There has already been a lot of speculation around this in the past decades, however the current consensus of sorts (top-tier tradinghouses' estimates) boils down to crude demand growing until the 2030s, wherefrom terminal decline starts. Russian authorities also expect peak demand in the 2030s and are worried that unless they ramp up the appraisal of the Arctic now, they might be simply too late to the party. Yet at least they would make it to the party at some time – Russia's only proper Arctic contender, Norway, is thinking about giving up on new prospects altogether.
Last week the Norwegian Labour Party, Norway's largest in the parliament, has backtracked on its promise to support exploration drilling around the Lofoten archipelago, estimated to contain up to 3.4-3.5 billion barrels of oil equivalent. As the Norwegian continental shelf grows increasingly mature and depleted, Equinor and all the other companies producing in Norway are asking the government to open up the far north for exploration – if it worked for Johan Sverdrup, the North Sea's largest project in the 21st century, it might work for other projects too. This takes place against the backdrop of the Norwegian sovereign investment fund vowing to progressively quit oil and gas assets, worth some $8 billion.