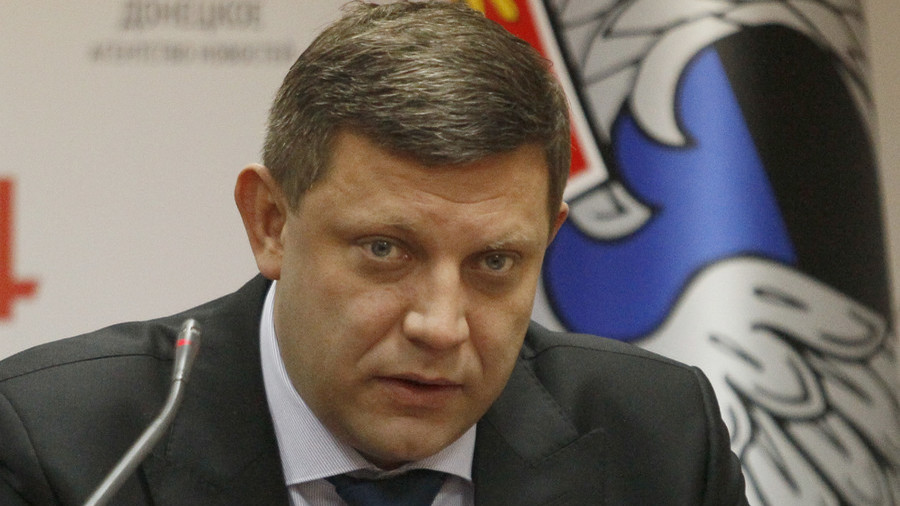 FILE PHOTO: Aleksandr Zakharchenko, the leader of the self-proclaimed Donetsk People's Republic (DNR). © Alexander Ermochenko / Reuters
Eleven Casualties in Zakharchenko Assassination Explosion
SPUTNIK - Nearly a dozen individuals died or sustained injuries in the explosion at a cafe in downtown Donetsk that killed Donetsk People's Republic leader Alexander Zakharchenko on Friday, a local source tells Sputnik News, among them the republic's finance minister, who is in grave condition.
"In total, 11 people became victims of the explosion," the source said, without detailing the precise number of casualties. "That includes both the dead and the wounded."
The explosion occurred in central Donetsk. According to an aid to the DPR president, the attack was deliberately planted at an eatery Zakharchenko was known to frequent. DPR Finance Minister Alexander Timofeev was also wounded during the incident. He has been taken to hospital and "his health condition is grave," acting DPR leader Dmitry Trapeznikov told reporters later Friday.
© SPUTNIK / IRINA GERASHCHENKO
Rundown of Murder Attempts Against Heads of Lugansk, Donetsk People's Republics
An unconfirmed number of suspects have been detained, said Alexander Kazakov, a DPR presidential adviser, during an interview with TV channel Russia-1. "At this point, a state of emergency has been introduced in the republic, the borders have been closed, suspects have already been detained," Kazakov said.
The acting leader of DPR said Friday that the suspects acknowledged they are linked to an unspecified "Ukrainian sabotage group."
Zakharchenko's murder calls into question the process of peaceful settlement of the conflict in eastern Ukraine, Russian Foreign Ministry spokeswoman Maria Zakharova said on Friday.
© SPUTNIK / ALEXEY KUDENKO
Life and Death of Assassinated DPR Head Alexander Zakharchenko
"What happened today puts a big question mark on the whole process [of implementation of the Minsk accords on Ukraine]," Zakharova said in an interview with Rossiya-24 television.
She added that it was necessary to conduct "a most impartial and prompt investigation" into Zakharchenko's assassination.
Sputnik's initial headline stated a death count of eleven before being updated with accurate information.
RT - An explosion that rocked a cafe in central Donetsk city in eastern Ukraine killed the leader Aleksandr Zakharchenko, the leader of the self-proclaimed Donetsk People's Republic, and injured several other top officials.
Media reports said that Zakharchenko was severely injured as a blast hit a restaurant called 'Separ' in Donetsk city center. He died later in a local hospital.
"The head of the DNR, Alenksandr Zakharchenko, has died as a result of a terrorist act," a spokesperson of the self-proclaimed republic's administration told journalists, revealing no details of the incident.
Moscow condemned 42-year-old Zakharchenko's murder, adding that it could be detrimental to the whole peace process in Ukraine. The death of the DNR leader could have a particularly negative impact on the implementation of the Minsk Agreements, Konstantin Kosachev, the head of the Russian Senate's International Affairs Committee, said.
There are "reasons to believe" that Zakharchenko's murder was orchestrated by Kiev, Maria Zakharova, the spokeswoman of the Russian Foreign Ministry, said.
Zakharchenko headed the self-proclaimed republic since November 2014 when a crisis broke out in Ukraine following a military coup d'état that ousted a lawfully-elected president. The Eastern Ukrainian provinces of Donetsk and Lugansk engaged in open conflict with Kiev since they refused to accept the new government, following the 2014 coup, and established the self-proclaimed republics. He previously survived several assassination attempts.
DETAILS TO FOLLOW