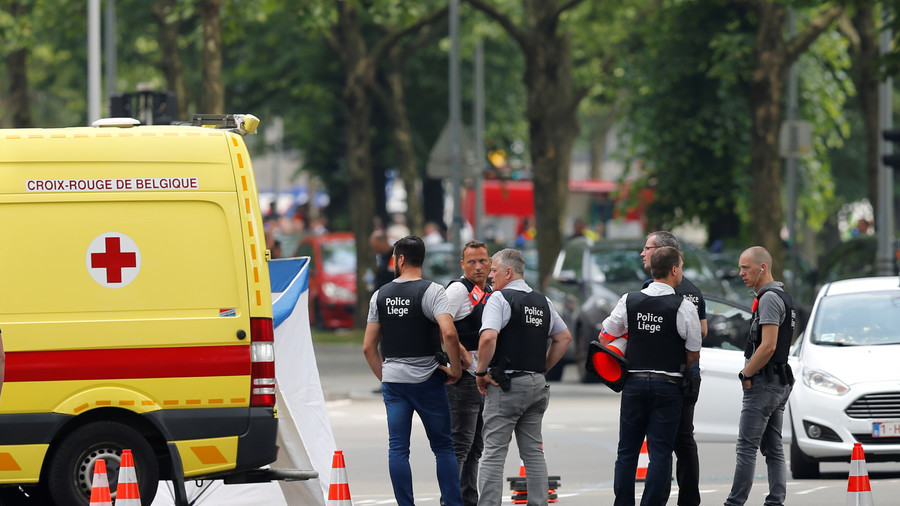 Police at the scene of Tuesday's shooting in Liege, Belgium. May 29, 2018. © Francois Lenoir / Reuters
Two police officers dead in Belgium shooting, attacker 'neutralized'
RT - Two police officers and a passer-by have been killed after a man opened fire in Liege, Belgium. The attacker was shot dead after taking a woman hostage in a local high school. The incident is being investigated as terrorism.
Another two people have been injured in the incident, according to Belgian broadcaster
RTBF
. Police have now cordoned off an area around Avroy Boulevard in the center of the city.
Belgian newspaper
La Libre
reports that the man opened fire at police at 10:30am local time at the Cafe des Augustins. He then went to Waha High School, where he took a woman hostage. Following a police operation, the man was shot dead about half an hour later.
All of the children at the high school are said to be safe and under police protection.
A spokesman for the national anti-terrorist crisis centre told Reuters that terrorism "is one of the questions on the table, but for the moment all scenarios are open."
Local media have identified the alleged attacker as a Belgian national recently released from prison for drug offences, who reportedly mixed with radicalized inmates.
Footage from the scene posted on social media appears to show convoys of ambulances leaving Avroy Boulevard. The country's anti-terrorist crisis center is now monitoring the situation, according to Interior Minister Jan Jambon.
The center
told the AP
that Belgium's terrorist threat levels are not yet being raised in response to the incident.
Liege has been the scene of mass shootings in the past. In December 2011, Nordine Amrani opened fire at a Christmas market in Saint-Lambert Square in the city, killing six people and leaving 125 others injured. Amrani then committed suicide by shooting himself.