Live bullets used in Kisumu
Live bullets have been fired in Kisumu, western Kenya, the BBC's Emmanuel Igunza reports. Two people have been wounded - both have had gunshots to the thigh. One of the injured is a 15-year-old boy and the other is a 21-year-old man. They are both being treated in hospital. Relatives at the hospital say police shot the live rounds. Our correspondent adds that tear gas has also been fired and crowds have dispersed from the main square in the opposition stronghold. This photo shows police using water cannon: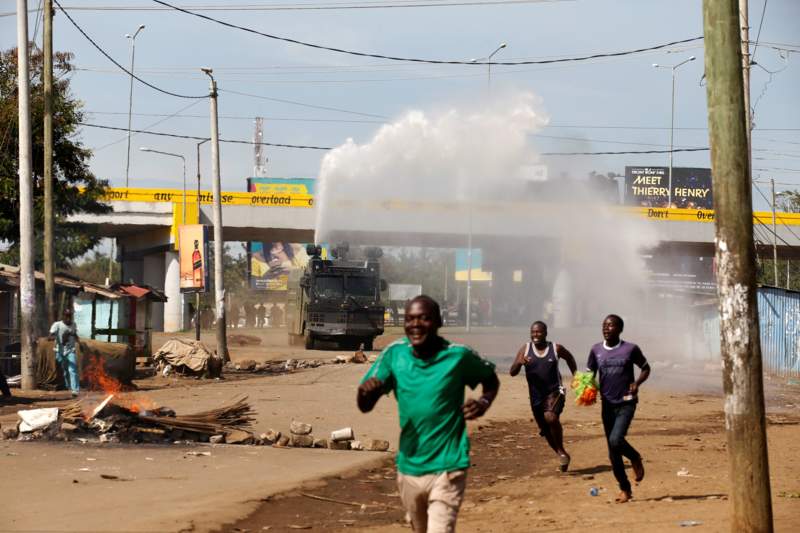 A Twitter user has posted pictures from around Garissa town in eastern Kenya, showing empty polling stations:
Garissa is the hometown of National Assembly Majority Leader, and Jubilee MP Adan Duale.
Raila Odinga: Organise fresh elections
Main opposition leader Raila Odinga - who represents the National Super Alliance (Nasa) - has called for "fresh, free and fair" presidential elections to be "organised within 90 days".
Mr Odinga tweeted the statement today, attributing the quote to a speech made yesterday to opposition supporters in Nairobi's Uhuru Park. The opposition coalition is boycotting today's vote because it says that the electoral commission (IEBC) failed to make the changes needed to prevent a repeat of the mistakes that marred the earlier poll. The IECB disputes this.
President Kenyatta: 'Turn out and choose your leader'
President Uhuru Kenyatta told journalists gathered outside the polling centre where he cast his vote in central Kenya that it's time for Kenyans to cast their votes and move forward. Main opposition candidate Raila Odinga has urged his supporters to boycott the election, plus road blocks in places like Kisumu county and the port of Mombasa appear to be contributing to a lower turnout at this stage compared to the original vote in August.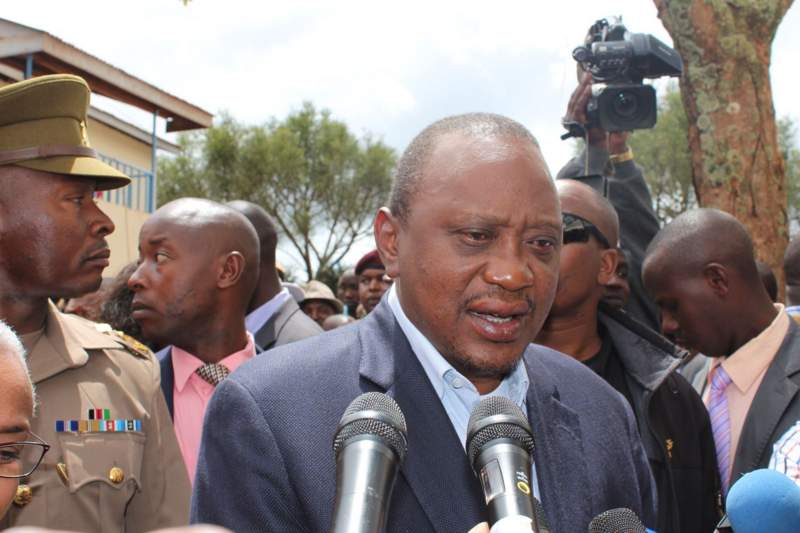 All we're asking is that Kenyans turn out. We are requesting them humbly that they should turn out in large numbers to cast their vote... choose their leader... for our country to move on.









Flash flood blocks voting material
The Kenyan newspaper the Daily Nation has tweeted this from east of the capital Nairobi:

Kenyan vernacular radios give mixed picture
In opposition leader Raila Odinga's western region support base of Kisumu, Luo-language Radio Nam Lolwe, Radio Lake Victoria and Dala FM stations are reporting that residents are obeying his call to boycott today's re-run of the presidential election. They say no polling stations have opened in Siaya, Kisumu, Homa Bay and Migori counties. The stations have also been reporting that protesters have barricaded roads and lit fires. A caller to Radio Nam Lolwe said they were awaiting fresh instructions from Mr Odinga. In central Kenya and in the western Rift Valley region where President Uhuru Kenyatta has support, the vernacular radios say voting is going smoothly. Kikuyu-language Inooro and Kameme FM are running live coverage of the elections. Presenters have been reading messages from people saying they had turned up early to wait for polling stations to open.
President Uhuru Kenyatta casts his vote
President Uhuru Kenyatta has cast his ballot at his constituency in Kiambu county, central Kenya.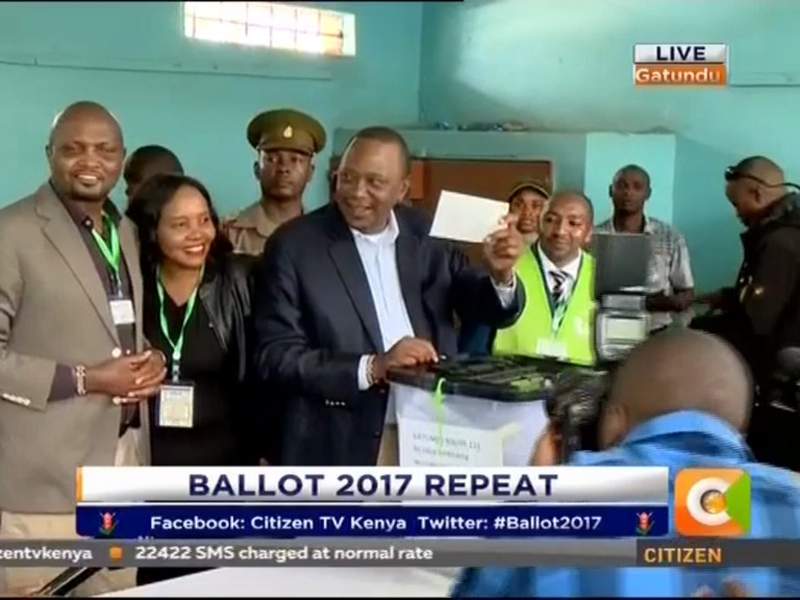 Our colleague Anthony Irungu is there and took photos of other voters at the polling station, at Mutomo primary school in Gatundu.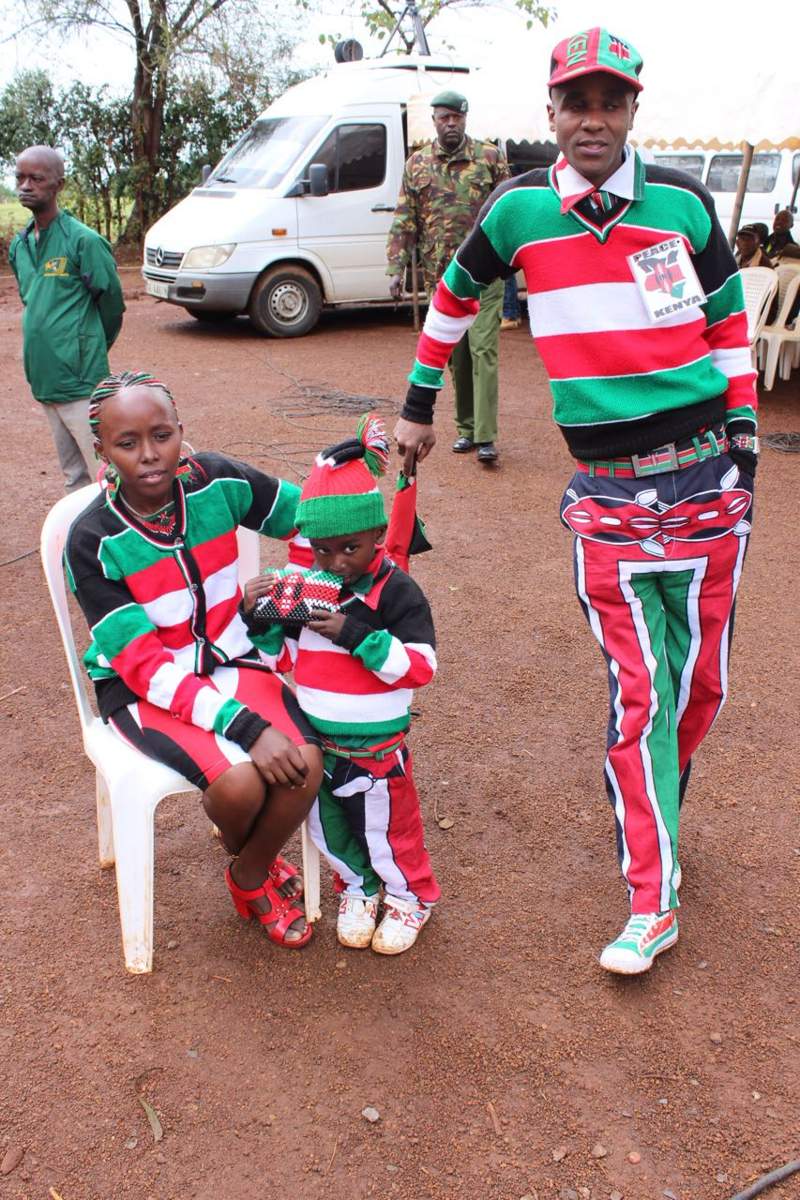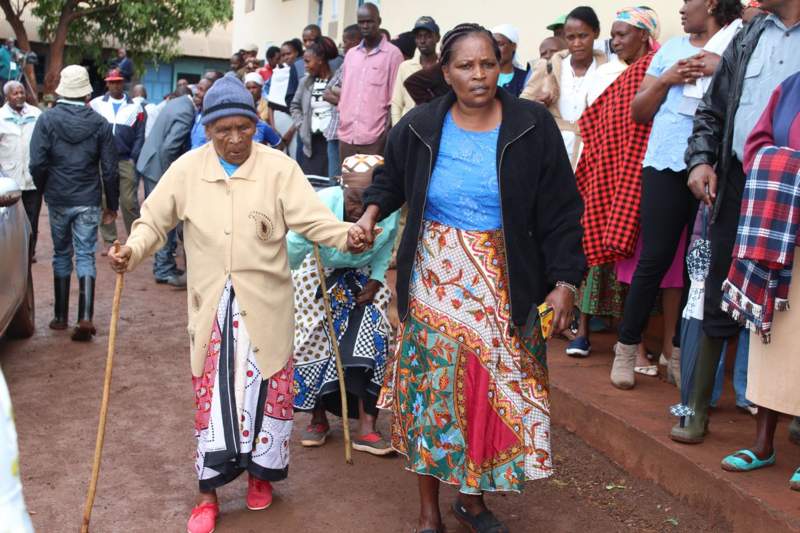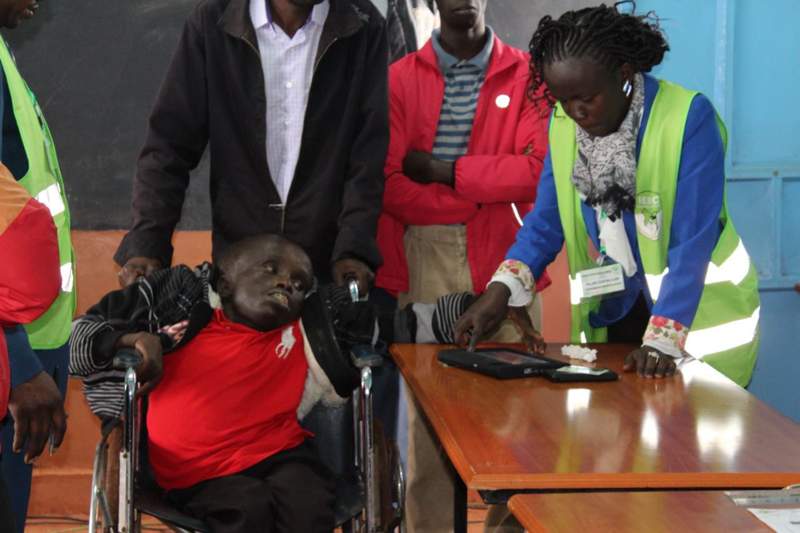 Our correspondent Alastair Leithead reports there are road blocks and fires in Kisumu, the opposition heartland in western Kenya. He has sent this photo taken next to a polling station which is locked up and empty.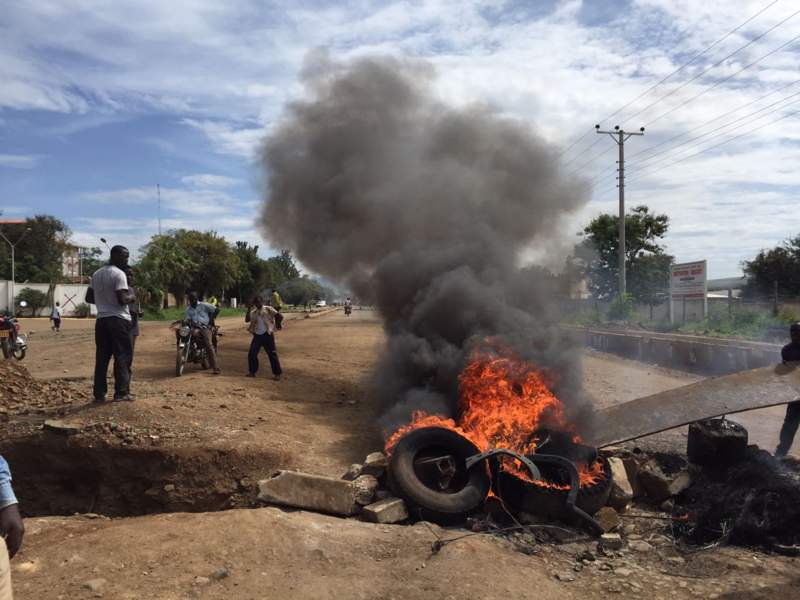 Electoral officials absent 'fearing intimidation'
Only three electoral officials out of 399 have shown up for work in Kenya's western county of Kisumu, the returning officer for Kisumu Central constituency John Ngutia says. The county is the heartland of the main opposition candidate Raila Odinga. His coalition - the National Super Alliance (Nasa) – has called for his supporters to boycott the presidential election re-run, saying it will not be free or fair. Mr Ngutia told the BBC's Emmanuel Igunza the officials fear they may be intimidated for taking part in the election.
Deputy President William Ruto casts his vote
Kenya's Deputy President William Ruto has voted in his home constituency of Turbo, in Uasin Gishu county in the country's west.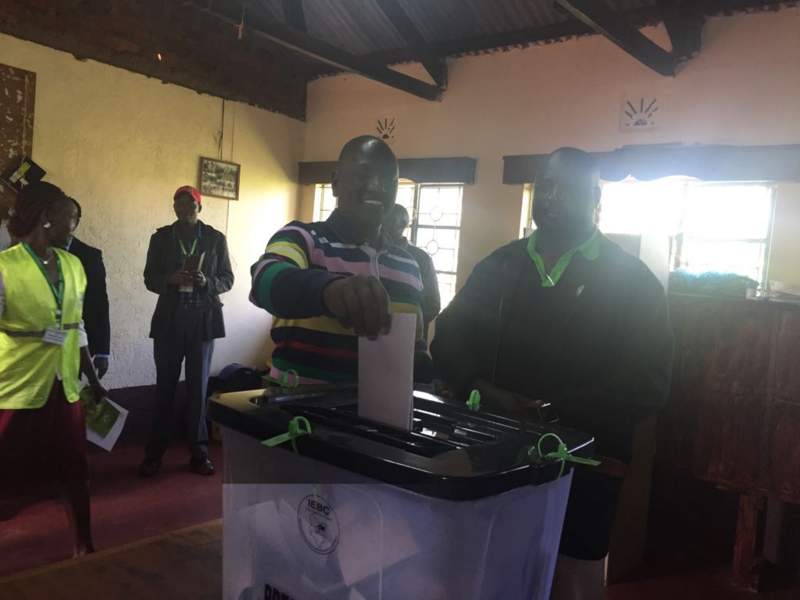 Our colleague Angela Ngendo shared these photos of Mr Ruto queuing beforehand with constituents.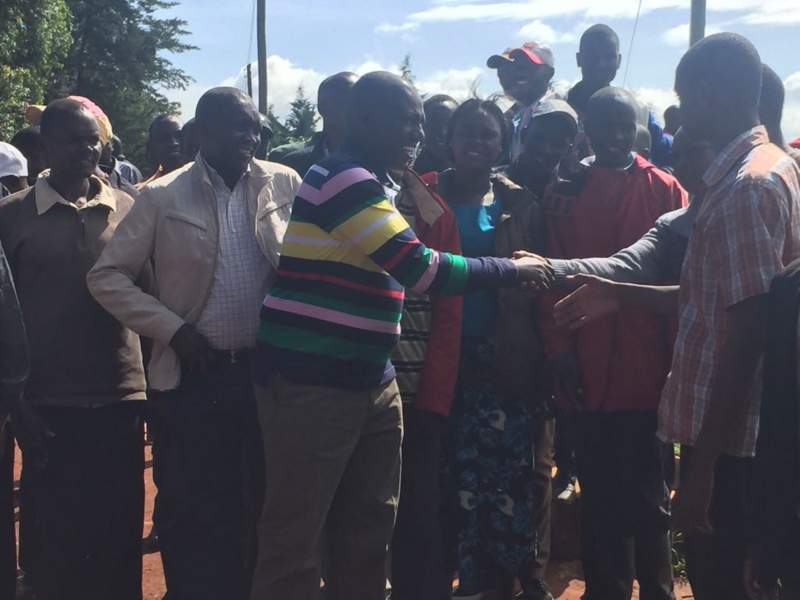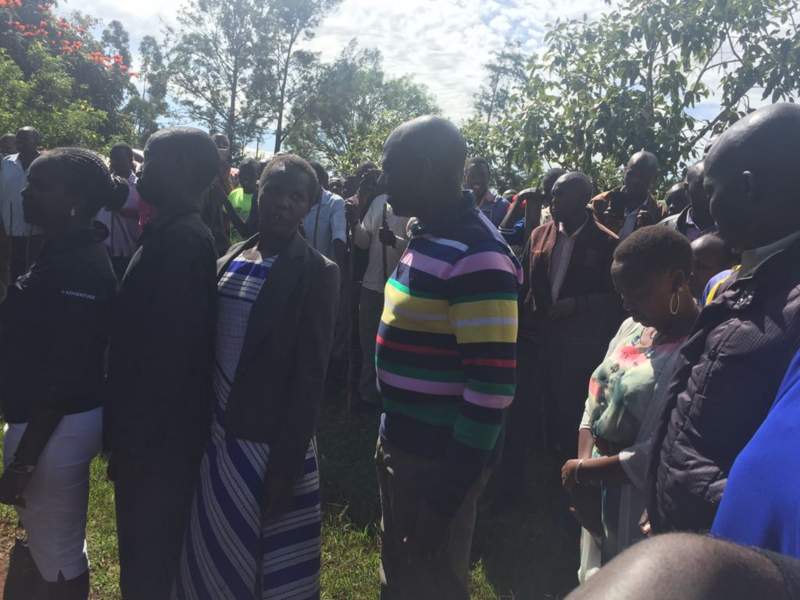 We have just received this picture from Getty showing a man running away from tear gas in Kibera, one of the poorer areas of Kenya's capital Nairobi: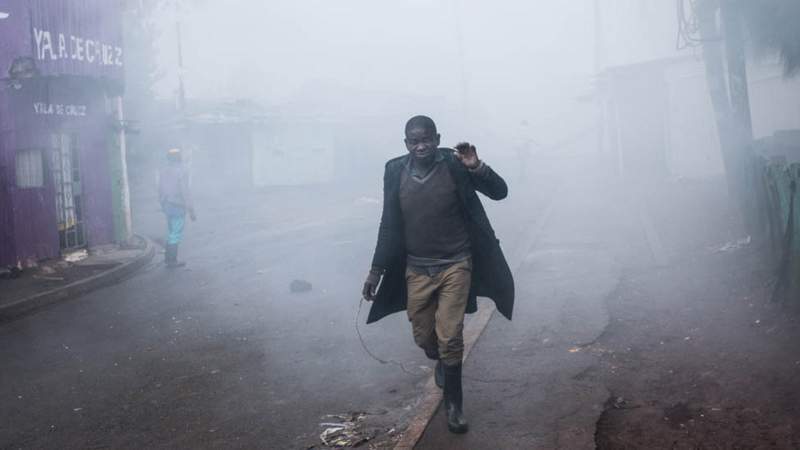 This is added to the report of tear gas being thrown in Kisumu, in the west of Kenya. Our reporter in Mombasa also suspects he turned up to the scene after tear gas had been used, as it smelt that way.
Posted at
Kenyan police 'fire tear gas at pro-opposition youths'
Kenyan police fired tear gas to disperse groups of stone-throwing young men in Kisumu, a witness told Reuters news agency. It is an opposition stronghold where polling stations have failed to open for the re-run of a presidential election.
Posted at
'Come and vote' - Tech-savvy chief on Twitter
"The queues are short. Please come and vote," Chief Francis Kariuki has urged other Kenyans.
He is based in Nakuru, a stronghold for the governing Jubilee Party. Chief Kariuki - who has more than 60,000 Twitter followers - has used the site to track down missing sheep and report crime before. He says even the thieves in his village follow him on Twitter.
Posted at
Motorbike taxi man offers free rides to vote
We recently reported that in Mombasa, on the coast, barricades are blocking people from getting to polling stations. But just south of the capital, Kenya's Daily Nation has found a story of a man doing everything he can to help people get to vote - by giving people a lift on his motorbike:

Why are people not voting?
Kenya's opposition Nasa coalition has boycotted today's re-run of the presidential election. But that isn't the only reason people are not turning up to vote. BBC Newsday has been consulting our network of reporters across Kenya to see what people have been telling them why they aren't voting. David Wafula has just come back from one of the biggest polling stations in the capital city, Nairobi. If you compare from the earlier election the turnout is much lower, he says. "Some people are taking their time, looking at what the situation will be, before they come and vote," he adds. Ferdinand Omondi is outside one of the routes to a polling station in Mombasa, a city on the coast. "Even those who want to vote do not get the chance to vote", he says. "People are stopping others from getting to polling stations. They have lit bonfires in the middle of roads on the way to polling stations. "I can smell tear gas, meaning a little has been sprayed earlier to disperse people. "The rain has started pouring down heavily, which may have started sending people home."
Listen to Newsday on the BBC World Service.
President Uhuru Kenyatta turns 56 on election day
When Kenya's electoral commission settled on 26 October as the date for the re-run of the presidential election, President Uhuru Kenyatta's supporters were quick to point out that it coincided with his birthday. National news broadcaster KTN filmed this boy wearing a T-shirt wishing the Jubilee Party candidate and incumbent president a happy birthday.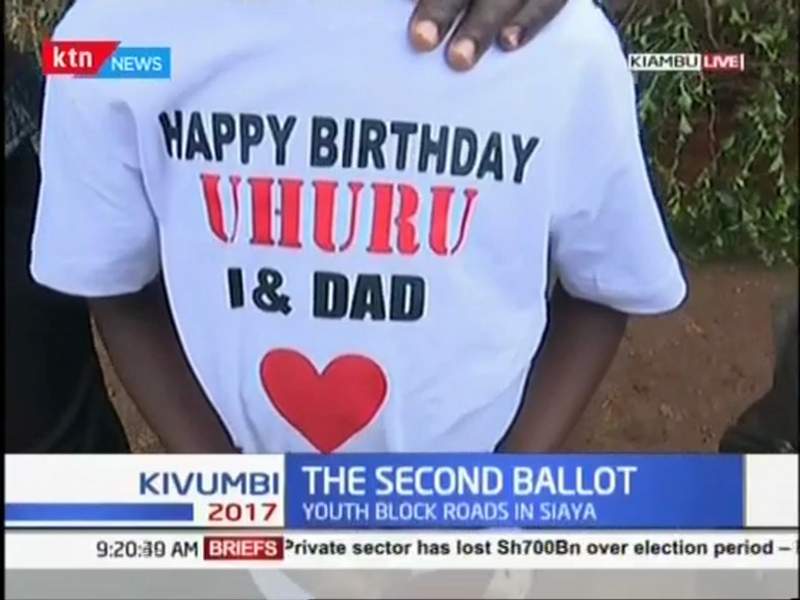 Slow start to vote in opposition stronghold
Our colleague Roderick MaCleod in Kenya's opposition stronghold - Kisumu county - sent these photos of ballot boxes arriving under police guard at Lions High School just over an hour ago. Polling stations across Kenya were due to open at 06:00 (03:00 GMT). Electoral Commission returning officers - the people who oversee the voting process at constituency level - say only two officials out of 399 have turned up for the county.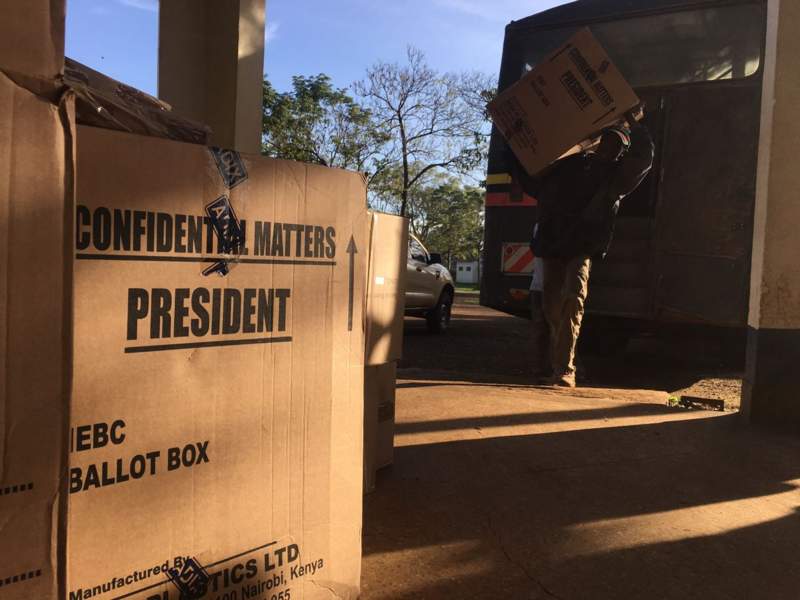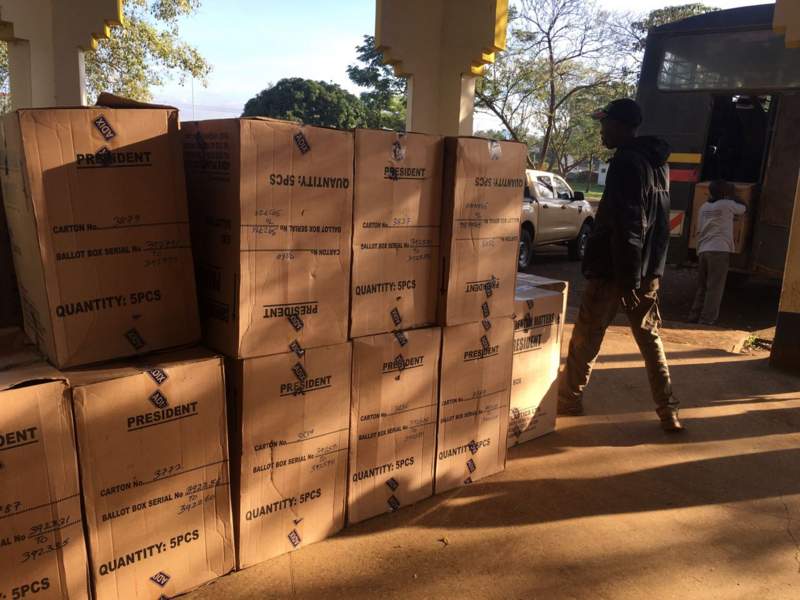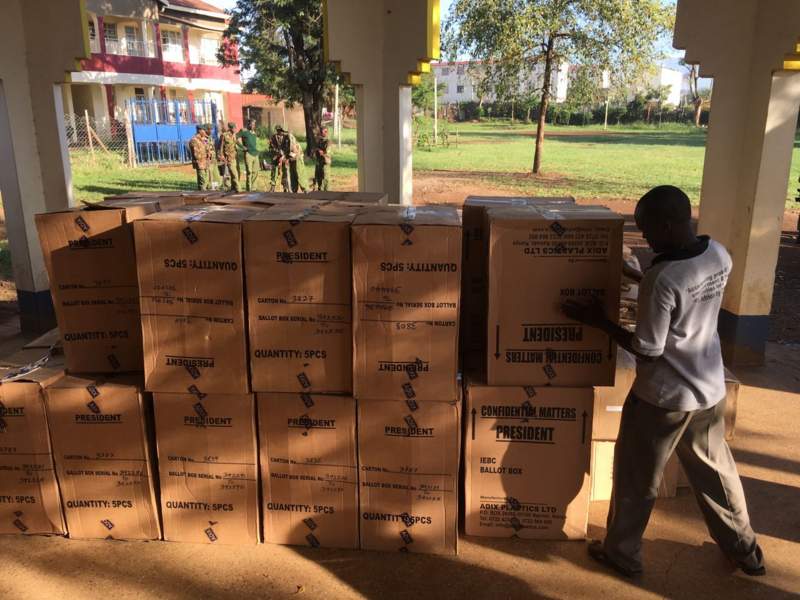 Our correspondent tweets:
People queue to vote in Kiambu county
We have been reporting either markedly short queues to vote in Kenya's presidential election re-run, or non-existent queues. That isn't the case across the whole of Kenya. One of our reporters, Tony Irungu, has found a long queue in the rain in Kiambu county in central Kenya. It's a stronghold for the ruling Jubilee party.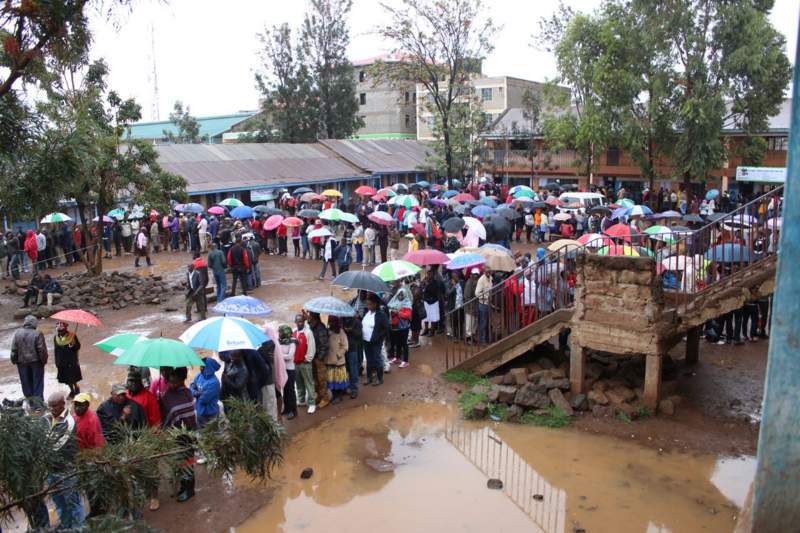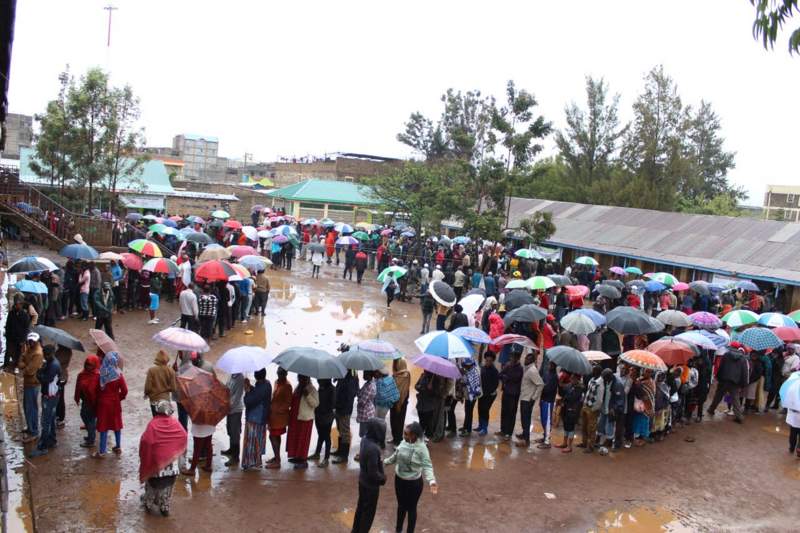 Voting opens in 'most' polling stations
Kenya's electoral commission has tweeted that voting has started in 'most' polling stations:
While Kenya election watchers question this. East Africa deputy bureau chief at Reuters news agency tweets:
And in a poorer part of the capital Nairobi, at least one polling station was closed when this Al Jazeera reporter went there:
Plus a Kenyan journalist saw voting materials that appear not to have been distributed yet:
This picture appears to capture a polling station that is open, only without voters:

Short queues at Nairobi polling station
David Wafula
BBC Africa, Nairobi
Queues snaked from this polling station in Kenya's capital, Nairobi, when I was here for the elections in August. But so far this chilly morning turnout at Moi Avenue Primary School - the largest polling centre in Nairobi - has been low for those voting in the repeat presidential election: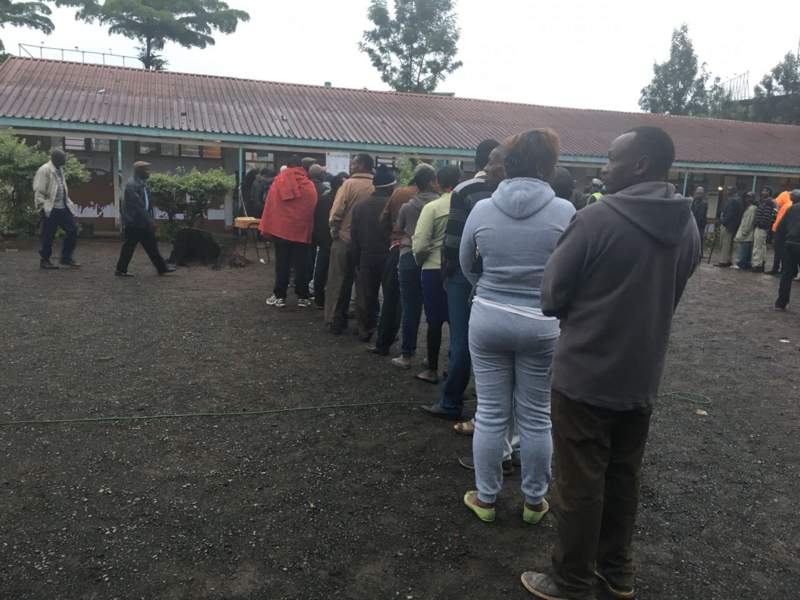 The process is much quicker as people are only voting for president - in August there were six separate ballot papers, including those for MPs, governors and county assemblies.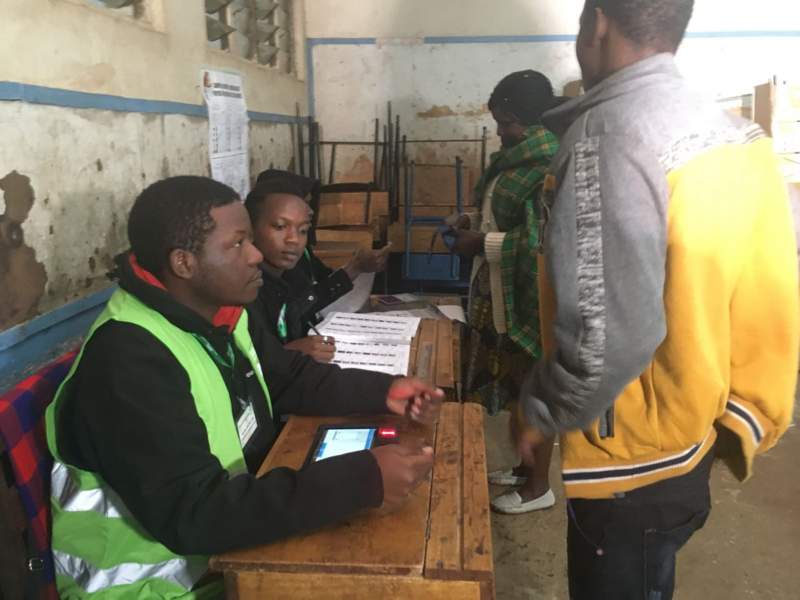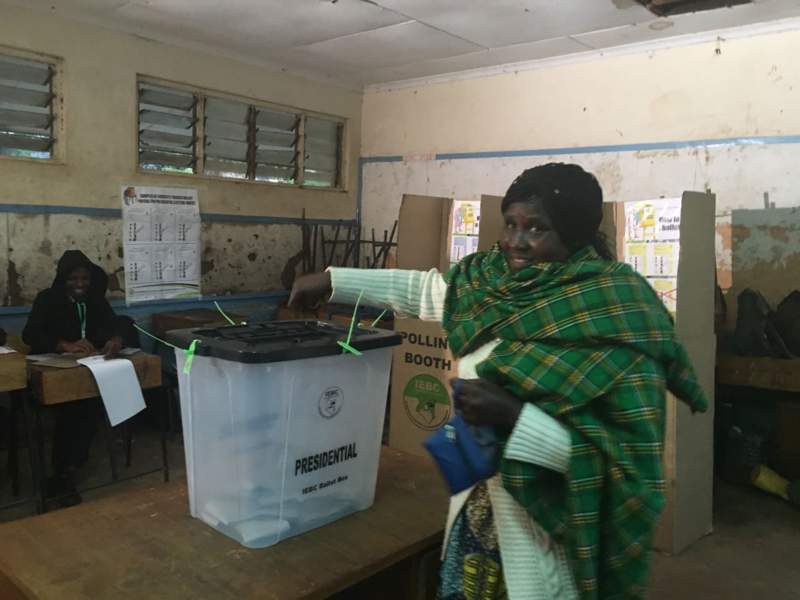 Some people were happy to brave the drizzle: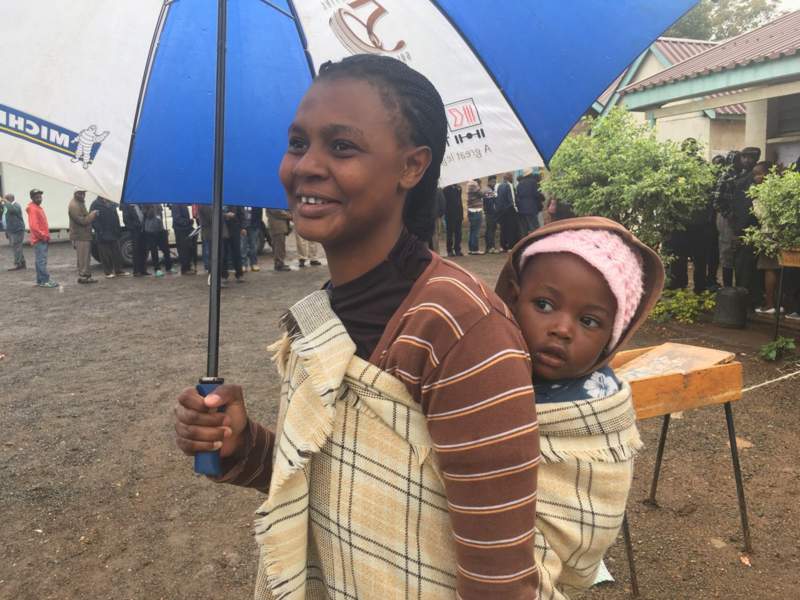 The re-run comes after the Supreme Court annulled the result of presidential vote because of "irregularities". President Uhuru Kenyatta, who is seeking a second term and won the cancelled August election, has urged people to vote and remain peaceful. Opposition leader Raila Odinga, who has pulled out of the re-run, has called on his supporters to stay away.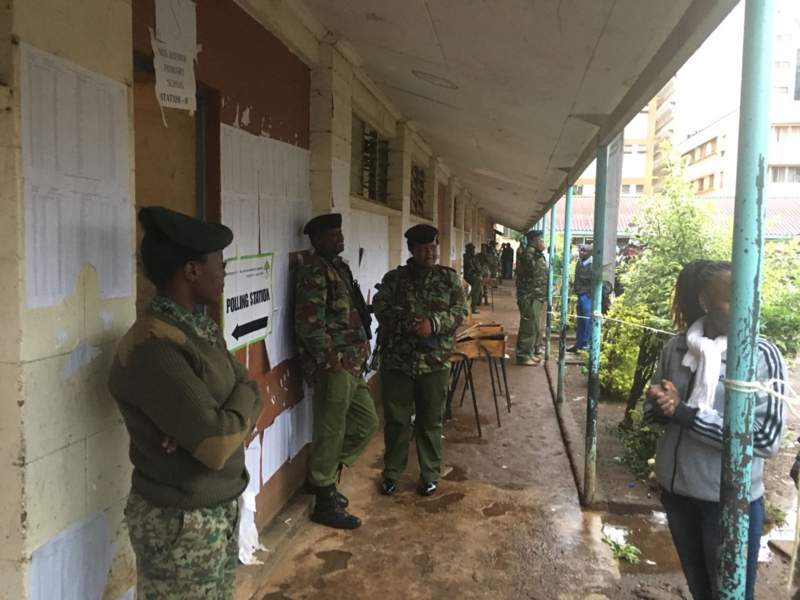 US condemn attack on Kenyan judge's bodyguard
Our new Africa editor tweets:
Deputy Chief Justice Philomena Mwilu failed to appear at the Supreme Court yesterday after her bodyguard was shot and wounded by unknown gunmen on Tuesday. Only two judges turned up, when five where needed to make a final decision on whether the election today should be blocked. Without a decision, the election went ahead by default. Our correspondent goes on to look at what the condemnation means:

Lower turnout in Kenya election re-run

Alastair Leithead
BBC Africa correspondent, Kenya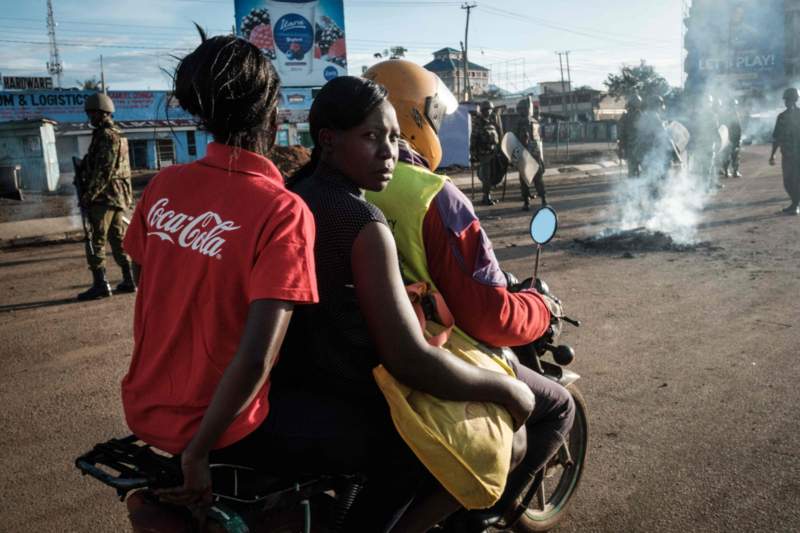 The polling stations have opened across Kenya for a re-run of the presidential election, but early indications are that there's a much lower turnout than the first ballot. The main opposition candidate has boycotted the poll and called on his supporters not to vote. I'm in Kisumu in western Kenya, which is an opposition stronghold and little, if any voting, is going on there. Here in the heartland of the main opposition candidate Raila Odinga, youths are blocking the streets, demonstrations are under way and polling stations haven't opened.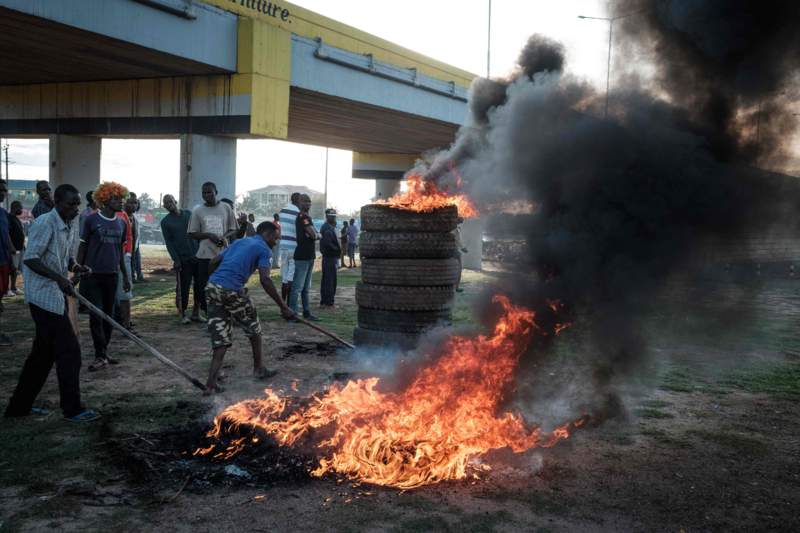 Election officials are trying to get ballot boxes and voting slips out and find staff willing to run the vote but logistics are a problem. I'm in a school in the centre of Kisumu where cardboard polling booths and boxes have only just arrived for wider distribution – in a prison service van. Commercial truck drivers are afraid of being targeted. In other parts of Kenya the vote is going ahead as planned, but it seems turnout is lower than the first election. International observers have scaled down their missions and there's an expectation that the legitimacy of this poll will be challenged.