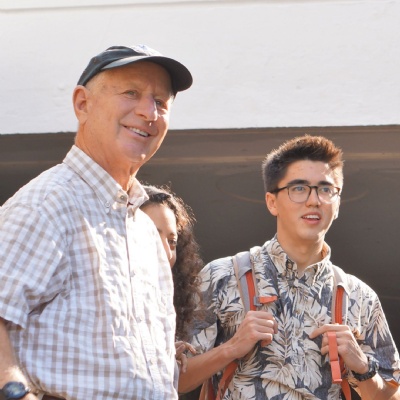 PHOTO: Shelby Davis, image may be subject to copyright
<< My parents also suggested that I follow a road map for life's journey: the first 30 years of your life, focus on learning; the second 30 years, focus on earning; and the remaining 30 or so years of your life, especially if you've been lucky and successful, focus on returning to help our world. Notice the word focus came up three times. That probably meant always focus on something, and stick to it.>> Shelby Davis
6 April 2018
Shelby Davis is UWC's greatest philanthropic supporter. Over the course of the last two decades, Shelby has invested in the UWC movement and its students through initiatives including the
Davis-UWC IMPACT Challenge
and, most recently, the
Davis-UWC Dare to Dream Programme
, which will allow 100 new students each year for the next 20 years to attend UWC - a gift worth $100 million USD. Shelby Davis has also given thousands of UWC alumni the opportunity to continue their education at the post-secondary level, through the world's largest international scholarship programme for undergraduates in the world: the
Davis United World College Scholars Program
.
The Davis UWC Scholars Program recently published its 2018 Annual Report, which can be accessed
here
. The Report gives an impressive overview of the diverse group of UWC students who have benefitted this academic year from scholarships to one of over 90 US colleges and universities for their post-secondary education. The Report also includes a message from Shelby Davis, adapted from remarks he delivered at the opening ceremonies for UWC ISAK Japan in September 2017. In the text, duplicated below, Shelby sets out how UWC has "made him better".
The UWC movement thanks Shelby Davis for his continued commitment to the UWC mission to make education a force to unite people, nations and cultures for peace and a sustainable future. There is no question that Shelby, with his immense generosity, commitment and faith in the UWC movement, has made UWC better as well.
"I want to try to answer the question I often get when I speak about philanthropy: why UWC? And why me? I believe education creates possibilities. It's always about young people and their futures, and we all realize that with education, young people have more possibilities than without it. I am investing in UWC students, in particular, because I believe they are getting a special brand of education at UWC schools. They tell me this, over and over in their letters and when I meet them. Their teachers and professors tell me this, too.
I have been very lucky in life, both in business and now in philanthropy. It probably started with my parents. I believe I got most of my business genes from my father, and my humanitarian genes from my mother.
My father was a realist and a doer; my mother was more an idealist and a dreamer. Both were internationalists. They got their Ph.D.'s in the early 1930s in one of the most international cities of the world, Geneva, Switzerland, which at that time was home to the League of Nations, forerunner to the UN. My parents introduced me to the world on two different summer trips, going around the world on the famous Pan American Airlines. Pan Am allowed stopovers, and we must have visited 25 or 30 countries — and in almost every case they knew people to visit. All this made a big impression.
My parents also suggested that I follow a road map for life's journey: the first 30 years of your life, focus on learning; the second 30 years, focus on earning; and the remaining 30 or so years of your life, especially if you've been lucky and successful, focus on returning to help our world. Notice the word focus came up three times. That probably meant always focus on something, and stick to it.
These thoughts stuck in my mind as I approached age 30, when I left a secure bank job to take a risk and start my own investment management firm. It happened again as I was approaching 60, with UWC. It must have been fate that I learned about the UWC schools scattered across the globe, visited one, and read a sign on the school bulletin board that said, "Our world needs dreamers, and our world needs doers, but most of all our world needs dreamers who do!"
My parents could not have said it better. And here I was at the right age, at the right time, and finding the right cause. Right on schedule.
I started listening to UWC students in their own words. One opening day at UWC in Mostar in its early years, via YouTube I heard a second-year student addressing the first-years. He said that just one year ago he was as nervous as you are now, but relax.
"You are about to have your eyes, ears, and minds opened to the world," this student said. "Trust me, this year will change your life. You'll be living daily with different cultures, religions, races, and habits — but that is the magic of the UWC experience. By next year, you will realize that UWC has made you a better you, and one of you will have the honor of addressing the new students."
I feel the same way. UWC has made me a better me. Being around motivated kids with winning habits who want to be changemakers keeps me young at heart, more optimistic and more energized. And what is a changemaker? In her graduation speech, a UWC student from Mexico said it best to her classmates: "It means helping make the difference between what our world is and what our world deserves to be."
At another UWC graduation, a Japanese student named China Fuji said this: "The compassion we have felt for each other daily, and the teamwork we have accomplished together, is proof that our collective spirits can push humanity toward a brighter tomorrow, a day when every person, every religion, and every culture is united."
UWC kids come together, work together, and almost without knowing it learn the lesson of leadership espoused by Dwight D. Eisenhower. He said leadership is like pulling a string across a table. It will follow. Push it and it will go nowhere at all.
A UWC T-shirt summed up the life-changing magic this way: "We came as strangers, we left as friends. We came expecting, we left remembering. We came as many, we left as one. We came empty, we left fulfilled." Julie Payette, a UWC grad from Pearson College, became a famous astronaut who made two trips to the space station and orbited the world countless times. Now the newly appointed Governor General of Canada, Julie said this in a speech she gave when I attended my first graduation at UWC-USA: "From space, just 80 miles up from Earth, as you orbit and watch day turn to night and light to dark, over and over, our beautiful world has no borders."
That's the dream of many at UWC. John Lennon ended one of his most famous songs this way: "You may say I'm a dreamer, but I'm not the only one. I hope someday you'll join us, and the world will live as one." This song is the song I hear most as I travel to international shows the students put on at UWCs.
So that's why I invest in UWCs and their students. Like the research analyst I was, I like checking up as I invest — and I have visited all 17 UWCs around the globe at least once.
At this age, I often think of words of wisdom given countless times by John Wesley, a roving minister who lived between 1703-1791, and who eventually founded the Methodist Church. He delivered sermons and prayers, on horseback in rural England and the southern United States, and he often ended with these words: "Do all the good you can. By all the means you can. In all the ways you can. To all the people you can. As long as ever you can."
That's why UWC is for me. I hope UWC is for you, too."
For more information on the Davis United World College Scholars Program, click
here
. To access the 2018 Annual Report, in which this message from Shelby Davis was originally printed, please click
here
.
==
Salvador Monteiro Silva POSTED in Members of UWC Alumni on 23 February, 2020
Hello everyone, hope you had a great weekend!
Here's a thought I've been having lately: "How does the IO go about selecting the locations of new United World Colleges?"
More broadly, I'm very curious as to what the first steps to set the development of a new College in motion are like. To be clear, I am not trying to rekindle the ongoing debate as to whether UWC, by expanding too fast, risks jeopardizing the quality of its program, identity, etc.
I know there's no straight answer to this question. With Atlantic College, for instance, it was the serendipitous appearance of a donor who was sympathetic to the movement and who was ready to bequeath St Donats Castle to the cause. More recent UWCs, like ISAK Japan, seem to be setting a new trend of UWC establishing partnerships with existing International Schools (a bit like a franchising model?).
The selection of a new location isn't a trivial this-or-that matter. My volunteering experience at AC highlighted the fact that a UWC can be just as impactful to the community it's set in, and its members, as it can be to the students privileged to attend it.
Not far from where I grew up, in Portugal, there is a quaint seaside village called São Pedro de Moel. The only way in and out is a winding road that slithers through an ancient pine forest, the verdant smell mixing beautifully with the scent of the ocean. The village, though still charming today, has sadly seen an unprecedented economic decline in the past decade, as the generations of families that once patronized it have moved on to more tropical destinations, made affordable by low-cost flights and the like.
What makes S. Pedro's story more tragic still is that, a couple of summers ago, the whole forest went up in flames. Now, all you see as you drive to this slowly disappearing village are the skeletal remains of a once magnificent forest - a macabre parallelism (yes, I took HL Lit). I don't think it's far-fetched for a UWC alumnus to look back at the movement's values and transformative power when witnessing challenging circumstances in the world. Interestingly, however, my thought at the time of the fires wasn't just "this place needs UWCers", it was "this place needs A UWC!".
Admittedly, it all sounds like a bit of a daydream, but one which I was committed to, nonetheless. I even had a potential place in mind for a main campus: a large abandoned swimming pool complex, dramatically set on the cliffs, prophetically reminiscent of my own Atlantic College (and Adriatic too, from what I'm told).
Soon after, figuring it was worth a shot, I wrote an email to Jens Waltermann, the Executive Director of UWC International, in an attempt to rouse his curiosity about a pitch for a potential UWC in Portugal. I was ignored, and felt for a time, that it had been justifiably so; the idea of writing to the CEO of UWC saying "hey, you should check this place out, it looks like a cool spot to open a college" sounds ludicrous...but at the same time, it doesn't.
As UWC alumni, we're called upon to be collaborative in the shaping of the movement's culture, direction, and future.
What better way of doing it than having a say in where we should be investing resources towards opening new Colleges? At risk of breaking the promise I made earlier in this post, I'll go ahead and say that giving student groups the power and the platform to lobby for locations where they think a UWC's presence would have a significant positive economic and social impact on the community sounds like a way better approach to expansion than the cut-and-dry licensing of the brand to existing International Schools, which, in my admittedly limited knowledge of the matter, sounds rather dispassionate.
I'd love to hear fellow alumni's opinions on these thoughts, and even more if you work at the International Office, and could shed some light on the general process through which new UWCs are born.
Sal Silva, UWCAC '16