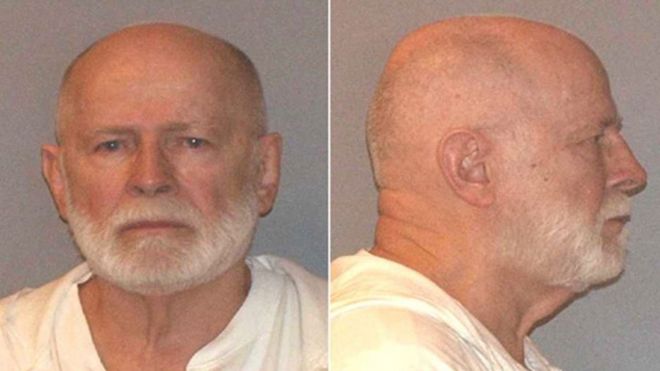 Image copyright GETTY IMAGES
BBC
- Infamous Boston gangster James "Whitey" Bulger has been found dead in a US federal prison in West Virginia.
The 89-year-old was discovered unresponsive in his cell at the maximum security facility shortly after being transferred there from a Florida jail.
US media report the former mob boss was killed on Tuesday morning at the penitentiary.
The life of Bulger, who was convicted in 2013 of 11 murders, inspired several films.
He was captured in California in 2011 after a 16-year manhunt.
The former leader of South Boston's Winter Hill gang inspired the film Black Mass featuring Johnny Depp, and The Departed, which won the Academy Award for best picture in 2006.
His death comes on the same day that he was transferred to the Hazelton penitentiary in West Virginia, which houses 1,385 inmates, according to reports.
An inmate with mafia ties is now under investigation for Bulger's killing, three sources briefed on the incident told the Boston Globe.
Boston-based WFXT-TV, a Fox affiliate, reports that Bulger was killed hours after being admitted to the general inmate population at the facility.
The Bureau of Prisons declined to comment last week on why Bulger - who was serving a life sentence - was being moved from the Florida penitentiary.
But according to the Globe, Bulger was transferred to Florida in 2014 from another prison in Arizona after his relationship with a female psychologist who was counselling him attracted the attention of prison authorities.
The details of his death have not been announced, but a local union official for correctional workers at the prison
told CBS
that a "homicide" occurred on Tuesday morning.
"This is the third homicide in seven months at our facility," Richard Heldreth said in a phone interview. "We are very understaffed, we are short about 40 officers."
A Department of Corrections statement on Tuesday confirmed his death in custody, and said the FBI had launched an investigation.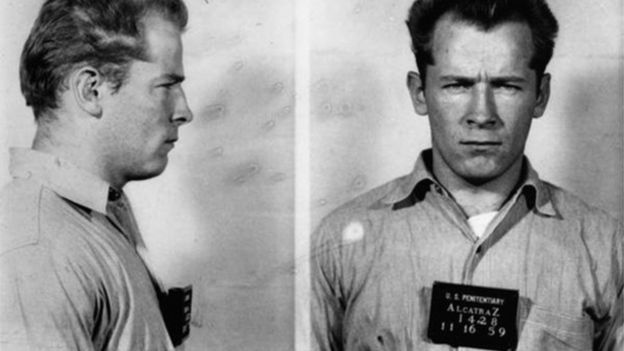 Image copyright GETTY IMAGES Whitey Bulger's mugshot taken upon arrival at Alcatraz in 1959
The statement made no mention of the cause of death, but said that "no staff or other inmates were injured, and at no time was the public in danger."
Who was James 'Whitey' Bulger?
Bulger was born in 1929 as one of six children in an Irish-American family.
Raised in Boston's Irish-Catholic South Boston neighbourhood, he became involved with a gang The Shamrocks as a young man, starting off by stealing cars and soon escalating to robbing banks.
He was first arrested for delinquency as a young teenager.
Bulger masterminded a criminal empire of loan sharking, gambling, extortion, drug dealing and murder.
After being convicted of armed robbery and hijacking, he was sent to the infamous San Francisco prison-island Alcatraz.
He apparently liked Alcatraz so much, he once visited and posed as a tourist, despite being a fugitive at the time.
Twitter post by @AlcatrazIsland

Alcatraz Island
✔@AlcatrazIsland
Whitey Bulger visited Alcatraz when he was on the run from the FBI.
http://ow.ly/nUaNM
10:15 PM - Aug 13, 2013


The moment fugitive Whitey Bulger brazenly posed as a tourist in Alcatraz... where he had once been...

Brazen holiday snaps of fugitive James 'Whitey' Bulger have emerged showing the former mob boss visiting his old haunt Alcatraz - just weeks into his 16-year run from the FBI.dailymail.co.uk
End of Twitter post by @AlcatrazIsland

Bulger once attempted to provide weapons to the Irish Republican Army.
He once strangled two women with his bare hands and tortured a man for hours before using a a machine gun to riddle his head with bullets.
Bulger's underworld activities were enabled by a rogue FBI agent who tolerated Bulger's crimes so that he would supply information on other gangsters.
The mobster went on the run in 1995 after the FBI agent tipped him off to an impending indictment.
He was convicted in 2013 of a litany of federal crimes, including participating in 11 murders across the US throughout the 1970s and 80s.
Bulger was arrested in 2011 in Santa Monica, California, where he had been hiding out with his girlfriend Catherine Greig, who remains incarcerated at a women's prison in Minnesota.
It emerged during his manhunt that he was a prized FBI informant, although he denied this during his trial.
The US government later paid more than $20m in damages to his victims on the grounds that he had committed the murders while operating under government supervision.